Not one, not two, not even three but FOUR new Gravity Group designs are headed to China.  Well under construction, a fantastic wooden roller coaster is underway at Fantawild Zhuzhou which will open in 2014.  Hot on its heels, a custom terrain coaster is currently in fabrication for HotGo Park in Shenyang.  Without any breather, the Fantawild park chain will follow these rides with exceptional rides at Jinan and then Wuhu in 2015.
These wooden roller coasters will more than double the current number of rides designed by The Gravity Group and manufactured by Martin & Vleminckx Rides.  The style of rides range from ground hugging terrain coasters to cutting edge wooden coasters that go upside-down.  The Gravity Group perfected the wooden roller coaster inversion in 2013 when they added a barrel roll to Hades 360°, and these advanced maneuvers are made possible with the state-of-the-art Timberliner train.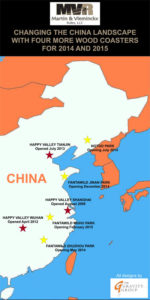 The team's previous rides thrill guests in the cities of Shanghai, Wuhan and Tianjin. The included map showcases the current and future new wooden roller coasters by the TGG/MVR team in China.  Zhuzhou, Shenyang, Jinan & Wuhu – Woohoo!